Professional dog grooming & teeth cleaning services
We treat each dog as an individual to make sure they look their best
At From Scruffy to Fluffy I provide a wide range of dog grooming services. My aim is to make sure your dog is looking and feeling their best.
My full dog groom includes a clip or trim, bath, dry and nail clip, finished with either a bow or bandana and a spray of fragrance. My prices range from £25 to £45 - please see price list below.
I also offer Ultrasonic teeth cleaning at £60 for 6 sessions and hydro massage in my purpose built doggy spa bath for just an extra £5, when added to a groom. This is great for easing achy old bones and skin conditions. Just think how much better you feel after resting in a nice warm spa bath.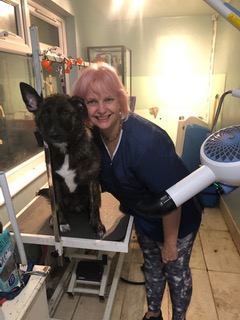 About From Scruffy to Fluffy
I am a City and Guilds qualified dog groomer. I am a huge dog lover and can't think of a better way to spend my time than with dogs. I have a purpose built dog grooming studio that is based at my home in Yeovil, so also allows me to spend time with my dogs between appointments.
I offer a one to one service meaning that your dog has my undivided attention the whole time they are with me. I have created a calm environment so that your dog can have the best experience possible. Whatever your dogs need are, I can accommodate them.
I know finding the right groomer to trust with your canine family member is really difficult, have a look at the reviews at the bottom of the page to help you make this important decision.
Give me a call, text or message to book in.
Why choose us for dog grooming?

On-site Spa

Friendly Services

Qualified Staff

Competitive prices

Collection Service

Hydro Massage Facilities