Professional dog grooming & teeth cleaning services
We treat your dog as an individual
At From Scruffy to Fluffy, I provide a wide range of dog grooming services. My aim is to make sure your dog is looking and feeling their best.
My full dog groom includes a clip or trim, bath, dry and nail clip, finished with either a bow or bandana and a spray of fragrance. My prices start from £35 - please see the price list below.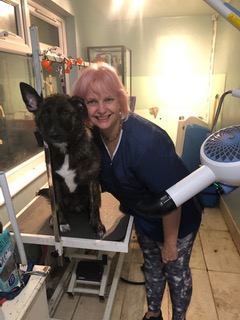 About From Scruffy to Fluffy
I am a City and Guilds qualified dog groomer and am currently studying towards my HND in canine behaviour. I am a huge dog lover and can't think of a better way to spend my time than with dogs. I have a purpose built dog grooming studio that is based at my home in Yeovil, so also allows me to spend time with my dogs between appointments.
I offer a one to one service meaning that your dog has my undivided attention the whole time they are with me. I have created a calm environment so that your dog can have the best experience possible. Whatever your dogs need are, I can accommodate them.
I know finding the right groomer to trust with your canine family member is really difficult, have a look at the reviews at the bottom of the page to help you make this important decision.
Please message, text or click here to book in online.
Why choose us for dog grooming?

On-site Spa

Friendly Services

Qualified Staff

Competitive prices

Collection Service